---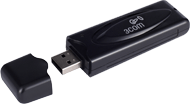 Product #: 3CRUSBN275
Features & Benefits
Cost-Effective .11n Wireless Coverage for Computers with a USB Port
The 3Com® Wireless 11n USB Adapter provides complete access to 2.4 GHz and 5GHz IEEE 802.11a, 802.11b, 802.11g and 802.11n wireless networks, delivering the flexibility to place your PC in a convenient location and continue to access the the most common wireless networks.
Desktop users can access network resources, the Internet and email at 11n speeds, ideal for multimedia applications. A host of features ensure reliable wireless connections and excellent speeds. Advanced MIMO (Multiple Input Multiple Output) technology provides enhanced wireless range. Wi-Fi® certification helps ensure interoperability with other vendors.
3Com offers one of the most robust suites of standards-based security on the market today. To protect wireless data, the adapter supports Wi-Fi Protected Access (WPA™, WPA2™) and 128-bit Advanced Encryption Standard (AES) encryption for higher level security, and Wireless Equivalent Privacy (WEP) 40-/60-/128-bit shared-key encryption. To protect against unauthorized network access, the adapter supports the IEEE 802.1X authentication, and EAP-TLS, PEAP and EAP-TTLS authentication protocols.
Setup and operation are extraordinarily easy, making the 3Com Wireless 11n USB Adapter an intelligent choice for first-time wireless network users. Create profiles with specific settings for each wireless LAN network. Users just click the profile and they are configured for connection.
Provides complete access to 2.4GHz IEEE 802.11b, 802.11g, and 802.11n and 5GHz 802.11a and 802.11n wireless networks
Compatible with existing 802.11a, 02.11b and 802.11g networks
Convenient USB adaptor provides installation flexibility
Wi-Fi a/b/g/n CERTIFIED® helps ensure the adapter will interoperate with Wi-Fi-compatible products from other vendors
IEEE 802.1X network access control and EAP authentication support the latest, most effective authentication techniques to thwart intruders and simplify network management
Wi-Fi Protected Access 2 (WPA2) and 128-bit Advanced Encryption Standard (AES) encryption help keep wireless transmissions private
Wi-Fi Multimedia (WMM) adds managed QoS, based on the IEEE 802.11e standard; critical for the new generation of delay-sensitive data, voice, and video applications
3COM 3CRUSBN275 Data Sheet: Download