---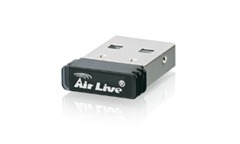 The AirLive BT-302USB is an ultra-compact size USB adapter that supports the latest Bluetooth 3.0 standard and lets you connect your desktop computer or notebook computer to mobile phone, PDA, notebooks, printers or headsets through Bluetooth connectivity. This handy and mini adapter allows you to create your Personal Area Network (PAN) instantly.
Specs:
Extremely compact design Bluetooth 3.0 USB Adapter
Universal Bluetooth connectivity for your PC/laptop
Effectively power saving, ultra low power consumption
Backward compatible with Bluetooth v1.2/2.0/2.1
Supports A2DP stereo streaming, up to 3Mbps link speed
Noise cancellation with extraordinary performance
AirLive BT-302USB Data Sheet: Download, User Guide: Download, Quick Install Guide: Download
Broadcom Solution with Widcomm Software
AirLive BT-302USB is using Broadcom hardware solution with Widcomm software utility. Each individual adapter comes with certified software license approved by Widcomm. However, installing software utility is not necessary because our hardware solution has been adapted by Windows and Mac operating system, this adapter will automatically be recognized with driver installed. If you are looking for advance features such as Share/Edit/Print via Bluetooth or synchronize information with Mobile/PDA, then installing the Widcomm software utility is recommended.
[From AirLive ]