---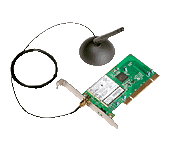 Device Name: HP WLAN 802.11a/b/g WL500
Device ID:
PCI\VEN_168C&DEV_0013&SUBSYS_10311668
PCI\VEN_168C&DEV_0013&SUBSYS_10261668
PCI\VEN_168C&DEV_0013&SUBSYS_10421668
TITLE: Altiris XPe Add-on (HP WL500 PCI Wireless LAN Adapter)
DESCRIPTION: This SoftPaq installs the drivers for the HP WL500 PCI WiFi wireless LAN Adapter on the listed thin client models running Microsoft Windows XP Embedded (XPe). 
File name: sp28453.exe (6.3 MB); Download1, Download2
Version: 3.1.1.26 A (5 Oct 2004)
Operating System(s): Microsoft Windows XP Embedded
Supported PRODUCT TYPE(S): Thin Clients
PRODUCT MODEL(S):
HP t5700: All Models, HP t5710: All Models
PREREQUISITES: 
- Altiris Deployment Server 5.6 SP1 or higher must be installed.
- 10 to 20 MB of uncompressed free space (depending on installation options) is needed for installation of this SoftPaq on a listed thin client.
HOW TO USE: 
1. Download the SoftPaq .EXE file to a directory on your hard drive.
2. Execute the SoftPaq to extract files to the Altiris deployment share. By default, this path is "C:\Program Files\Altiris\eXpress\Deployment Server".
3. Refer to the enclosed HP_WL500_PCI_Wireless_LAN_Adapter_3.1.1.26_A1.txt  document in the "C:\Program Files\Altiris\eXpress\Deployment Server\HP Thin Client Documents" folder for more information about deploying this component.