---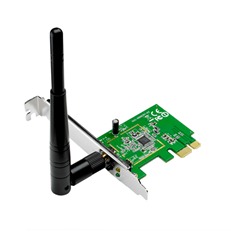 The ASUS PCE-N10 is designed to provide complete end-to-end wireless performance from the server or server backbone to the switch infrastructure and down through to the desktop with the PCI Express connector.
Features:
Data Rate: 802.11 b/g/n : downlink up to 150Mbps, uplink up to 150Mbps(20/40MHz)
Physical WPS (Wi-Fi Protected Setup) button quickly sets up a secure wireless connection.
Software AP mode allows the WLAN card to act as a virtual access point, and connects your notebook, or other game consoles to the Internet.
Support WEP, WPA, and WPA2 encryption methods for enhanced security.
Device Name: ASUS PCE-N10 11n Wireless LAN PCI-E Card

Hardware ID: PCI\VEN_10EC&DEV_8176&SUBSYS_84B51043
Asus PCE-N10 802.11n Wireless PCI-E Adapter Windows XP, Vista, Win7 Drivers & Utility:
Download 1, Download 2 (The first version driver & utility, 33.37MB, 2011.05.26 update)
ASUS PCE-N10 driver 1.0.0.9 for Linux, Download 1, Download 2 
The first version driver for Linux, 1.82 MB, 2011.05.26 update.
OS support:
2.6 kernel: Fedora Core, Debian, Mandriva, Open SUSE, Gentoo, Ubuntu 7.10/8.04/8.10/9.04/9.10/10.04/10.10, moblin(V2), android-x86_090916, etc.
2.4 kernel: Redhat 9.0/9.1
[ From Asus ]