---
AT&T Plug&Share 54 Mbps 802.11g Wireless Notebook Adapter Model 6700G: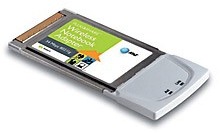 The AT&T Plug&Share Wireless 54 Mbps Turbo Notebook Adapter provides the freedom of a wireless connection for your notebook computer. A wireless network lets all the computers in your home or office connect to a single broadband Internet connection.
Device Name: AT&T Plug&Share 54Mbps Wireless Notebook Adapter
Device ID:
PCI\VEN_168C&DEV_0013&SUBSYS_710116AB, PCI\VEN_168C&DEV_0013&SUBSYS_710216AB
Update your Plug&Share Wireless Notebook Adapter 54 Mbps 802.11g with the latest software. Choose the most-recent file below to begin the fast download and automatic update process.
Download AT&T Plug&Share 6700G Wireless Notebook Adapter  Windows Drivers, Utility:
Model 6500G-6700G Utility,  2004-02-17 10:13:20.0,  Download
Model 6700G Utility and Driver v1.1,  2004-07-23 12:09:28.0,  Download
AT&T Plug&Share 6700G: Install And Setup Guide,  Model 6700G Data Sheet