---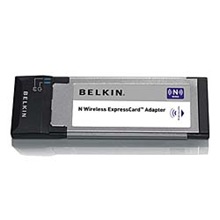 Specifications:
Link Rate: Up to 300 Mbps in 40MHz Channel Mode;
Network Standards: IEEE 802.11b , IEEE 802.11g , IEEE 802.11n draft*
Range:1,200ft;  Security: WPA, WPA2, 64-bit/128-bit encryption; Specifications Interface: PCI Express
Based on Ralink RT2860 series chipset.
Device ID:
PCI\VEN_1814&DEV_0781&SUBSYS_817C1799, PCI\VEN_1814&DEV_0681&SUBSYS_80731799;
F5D8073 N Wireless ExpressCard Adapter – Windows 2000, XP, Vista Drivers
This product has multiple versions. Please check the version number on your adapter to ensure that you load the appropriate driver below.
F5D8073 Version 1xxx Driver:
Download version: 2.0.0.0, OS compatibility:  Windows 2000, Windows XP 32-bit, Windows Vista 32-bit, Windows XP 64-bit, Windows Vista 64-bit, size: 16.8Mb
F5D8073 Version 3xxx Driver
Download version: 2.0.0.8, OS compatibility: Windows 2000, Windows XP 32-bit, Windows Vista 32-bit,  Windows Vista 64-bit, size: 17.7Mb
F5D8073 Version 1000 Series N Wireless ExpressCard Adapter - Product Manual