---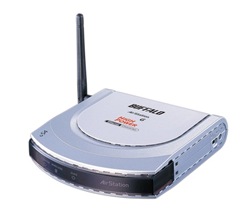 The Buffalo AirStation High Power Wireless Ethernet Converter is an extremely versatile wireless client adapter. Use it to wirelessly connect gaming consoles, desktops, notebooks, media players, printers, Unix workstations, and any other devices with Ethernet ports. With a built-in four port switch, up to 4 devices can be simultaneously connected to the Ethernet Converter for instant wireless connectivity. The Ethernet Converter supports AOSS™, allowing you to configure a secure wireless connection with the push of a button, and offers the advanced security for WPA (TKIP, AES). Once the simple browser-based setup or AOSS™ is complete, the Ethernet Converter can be moved from one device to another without reconfiguration. You can even add an optional Buffalo antenna for extended range and performance.
Features
High Power Wireless increases performance by up to 70% and extends range by up to 50%
802.11g Wireless 125* High-Speed Mode (Turbo G) transfer rates when used with 125* High-Speed Mode™ (Turbo G) Access Points or Wireless Routers
Four built-in 10/100 ports for up to 4 simultaneous wired devices
Easy and Secure Wireless Connections with AOSS™
Can be used horizontally or vertically
Compatible with 802.11b and 802.11g wireless routers and access points
Simple web browser configuration, no drivers needed
Can be moved from device to device without reconfiguration
Enhanced security with WPA (TKIP, AES) and standard 64/128-bit WEP
Works as a high-speed wireless gaming adapter
Download Buffalo AirStation WLI-TX4-G54HP Quick Setup Guide, User Manual.
Buffalo WLI-TX4-G54HP Ethernet Converter Firmware: Download (2.75MB, 2007-09-12, 2.53)
Buffalo Wireless Client Utility:
File
Post Date
Version
OS Support
Notes
download


2.79 MB

2007-06-05
3.0
Windows ME, Windows 2000, Windows XP
Client Manager 3 for Windows ME, 2000, and XP.  Adds AOSS support for Windows.  Windows Vista users please use Client Manager V.
download


2.11 MB

2007-06-05
V
Windows Vista
Client Manager V for Windows Vista.  Adds AOSS support for Vista.