---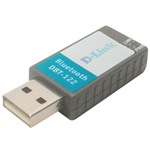 The D-Link Personal Air DBT-122 USB Bluetooth Adapter is a very compact, low-profile solution based on the Bluetooth 1.2 specification, making it compatible with other Bluetooth enabled devices.
- Bluetooth SIG 1.2 compliant
- Supports Adaptive Frequency Hopping (AFH) function
- RF wireless frequency 2400 to 2483.5 MHz for USA, Europe, Japan, 2446.5 to 2483.5 MHz for France
- 128-bit data encryption, Up to 10 meters (33 ft.) wireless operation range
- Up to 723Kbps asymmetrical, 433.9Kbps symmetrical data transfer rate
Please note the REVISION of your product to select the correct download. Your product revision is indicated on the sticker at the bottom of the unit.
Downloads for REVISION A (how to check)
D-Link DBT-122 (Rev.A) Windows Drivers, Utility, v3.01.915 (22928 KB): Download
Downloads for REVISION B (how to check)
D-Link DBT-122 (Rev.B) Driver 4.0.1.zip (41723 KB): Download
D-Link DBT-122 (Rev.B) Driver 5.1.0.1100.zip (36327 KB): Download
Downloads for REVISION C (how to check)
DBT-122 Rev.C Driver 5.1.0.1100 (36327 KB): Download
DBT-122 Rev.C Win Vista 32bit Driver 1.0 (1557 KB): Download
DBT-122 Rev.C WinXP 64bit Driver 1.0 (70079 KB): Download
Product Manuals:
User Manuals v1.00 (1589 KB): Download
Quick Install Guide - DBT-122 QIG v1.00.pdf (2740 KB): Download
Setup Guides: ActiveSync Setup via Bluetooth.pdf (345 KB): Download
Connecting DBT-122 to Nokia Phone.pdf (316 KB): Download
Connecting DBT-122 to Sony Ericsson T610 v1.1.pdf (159 KB): Download
How to add a Bluetooth device.pdf (249 KB): Download