---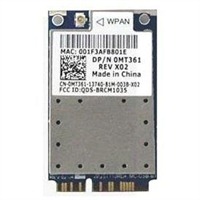 Enjoy cable-free computing between Bluetooth-enabled keyboards, mice, mobile phones, headsets, printers and more, with the Wireless 410 Bluetooth (2.1 + EDR) Mini-Card from Dell. This card provides enhancements in technology, speed, and compatibility. This Wireless 410 Bluetooth Card is based on the Bluetooth 2.1 standard with EDR (Enhanced Data Rate) technology. EDR technology boosts bandwidth while reducing power consumption and maintaining backward compatibility with older Bluetooth devices. It offers data transfer rates of up to 3Mbps so you can transfer files with ease. It offers built-in security using 128-bit encryption and authentication, allowing you to securely access any Bluetooth device.
Highlights
Enhanced Data Rate (EDR) capability allows for data transfer rates of up to 3Mbps
Compatible with IPv6 (Internet Protocol version 6)
Provides wireless range of up to 30ft
Backward compatible with Bluetooth 1.1, 1.2, and 2.0 compliant devices
Manufacturer Part# : T888C
Dell Part# : 430-3091
Device Name: Dell Wireless 410 Bluetooth Device

Hardware ID: USB\VID_413C&PID_8169, USB\Vid_413C&PID_8152
Dell Wireless 410 BT+UWB Minicard Windows XP, Vista 32/64bit Drivers, Application:
Download (35 MB)
Release Date: 12/18/2008, Version: SSP1.4.20.7, A02 UWB Software
Download Dell Wireless 410 BT+UWB Minicard Windows Vista Wireless Feature Pack for Vista SP1,
Release Date: 1/21/2009, Version: 942567, A01
Download (11 MB)
Dell recommends applying this update during your next scheduled update cycle. The update contains feature enhancements or changes that will help keep your system software current and compatible with other system modules (firmware, BIOS, drivers and software).
Supported Dell Systems:
Inspiron 1470, Inspiron 1545, Inspiron 1546, Inspiron 1570, Inspiron 1750, Latitude 2100, Latitude E4200, Latitude E4300, Latitude E5400, Latitude E6400, Latitude E6400 ATG, Latitude E6400 XFR, Latitude E6500, Latitude Z600, Dell Precision Mobile WorkStation M4400, Dell Precision Mobile WorkStation M6400, Studio Laptop 1435, Studio Laptop 1450, Studio Laptop 1536, Studio Laptop 1537, Studio Laptop 1557, Studio Laptop 1737, Studio XPS Laptop 1340, Studio XPS Desktop 8000