---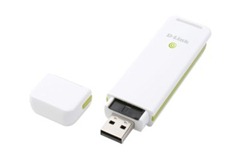 The DWM-156 3.75G HSUPA USB Adapter allows you to connect your notebook to your mobile broadband service wherever you are in the world. While connected, you can transfer data, stream media, and send SMS messages. The DWM-156 supports the latest 3.75G High Speed Uplink Packet Access (HSUPA) technology, which offers data rates up to 7.2 Mbps (5.76 Mbps upload) and helps to reduce latency. 3.75G is also backwards compatible with 3.5G, 3G and 2.5G technologies.
Based on HSUPA 3G technology: up to 7.2 Mbps data transfer speed
Fast USB 2.0 interface
Built-in drivers for true plug-and-play installation
Works as a 3G modem for use with selected D-link routers
Unlocked: works with data SIM cards from any operator
Device Name: DWM-156 HSUPA USB Modem

Hardware ID: USB\VID_07D1&PID_3E02&MI_00
D-Link DWM-156 HSUPA Adapter Windows 2000, XP, Vista, Win7, Mac OS, Linux Drivers:
Download ( DWM-156-1.05b01.zip, 32947 KB, 2010/7/26 )
For Windows 2000/XP/XP-64/ Vista/ Vista-64, Windows 7 /7-64 bit, Ver.1.1.17.103,
For Mac OS X 10.4,10.5, 10.6, v1.05.
D-Link DWM-156 HSUPA Adapter Firmware Updater:
Download (DWM-156-2.10B02.rar, 22796 KB, 2010/7/26 )

Download D-Link DWM-156 HSUPA Adapter Quick Installation Guide in 18 languages.
[ From D-Link ]