---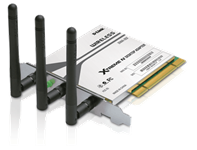 The D-Link Xtreme N Desktop Adapter (DWA-552) is a 802.11n wireless client that delivers unrivaled wireless performance for your desktop computer. This wireless adapter delivers up to 14x faster speeds and 6x farther range than 802.11g while staying backward compatible with 802.11g networks. Once connected, you can share a high-speed Internet connection, photos, files, music, videos, printers, and storage. Access a secure wireless network using advanced WPA or WPA2 encryption. Easy to install and use with D-Link's new Quick Adapter Setup Wizard.
Device Hardware Info:
Device Name: D-Link DWA-552 XtremeN Desktop Adapter
Hardware ID:
PCI\VEN_168C&DEV_0023&SUBSYS_3A6D1186, PCI\VEN_168C&DEV_0029&SUBSYS_3A7A1186
Download
Version
Operating System(OS)
Date
1.60
Win2K, WinXP, Vista 32, Vista 64, Win7 32, Win7 64
11/05/2009
¤ Supports Win7 OS.
¤ Fixed: Wizard scan would be empty on utility's first run.
1.50
Win2K, WinXP, Vista 32, Vista 64
3/12/2009
¤ Update XP/XP64/2000 driver to v7.6.1.221 and Vista/Vista64 driver to v7.6.1.194.
¤ Support DWA-552 A2.
¤ Follows Spec of WLAN utility & driver description V1.05.
¤ Updates CD version to v1.50.