---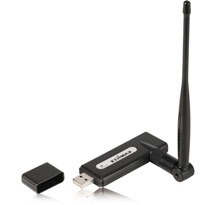 Overview
EW-7711HPn is a high power wireless USB adapter which increases the wireless signal strength and extends wireless coverage. This high power USB adapter supports higher data rates up to 150Mpbs when connected to a wireless 802.11n device. Simply plug it into a computer's USB port and you can  enjoy its incredibly high-speed wireless performance.
Complies with wireless 802.11n standard with data rate up to 150Mbps
With the latest wireless 802.11n technology built into it, the transmission data rate when connected to wireless 802.11n devices can reach up to 150Mbps, making signal travel farther and guarantee wireless connections compared to a standard wireless 802.11b/g network.
Built in High Power  Technology  and 5dBi high gain detachable antenna
EW-7711HPn built in high power technology and high gain 5dBi detachable antenna that can help you to extend wireless coverage.  The EW-7711HPn with extended USB cable let you relocate the EW-7711HPn to receive the best signals. Also, you can change to any high gain aerial with RP-SMA interface. Its rotatable and detachable 5dBi high gain antenna makes the wireless transmission more stable and reach farther. EW-7711HPn is your choice for wireless connection!
Wireless Security
EW-7711HPn supports 64/128-bit WEP data encryption that protects your wireless network from eavesdropping. It also supports WPA (Wi-Fi Protected Access) feature that combines IEEE 802.1x and TKIP technologies. Furthermore, this adaptor supports WPA2 and WPS functions, WPA2 provides a stronger encryption mechanism through AES , which is a requirement for some corporate and government users.
Edimax EW-7711HPn Datasheet, Quick Install Guide, User Manual.
[From Edimax]