---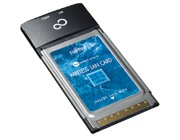 This card is wireless LAN card in accordance with IEEE802.11a(J52/W52/W53) and IEEE802.11g.
It is possible to connect it with Internet using the Broad band and existing LAN by using a wireless, broadband router, wireless LAN station, the family network station, and the personal computer with built-in the home made of our company server function of another option.
FMV-JW481 / 2 Wireless LAN Driver, V7.4.2.40 / V4.2.2.44:
Supported OS: Windows 2000, XP, Vista, Windows XP Tablet PC Edition, Windows XP Media Center Edition.
Download Fujitsu FMV-JW481 / JW482 Wireless LAN Card Windows Drivers:
Download 1[fmvjw482.rar, 36.7MB], Download 2 [from Fujitsu, E1005544.exe  39.65MB].