---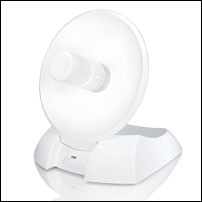 Product information:
The Hawking Hi-Gain Wireless-300N USB Dish Adapter extends your wireless network 6 times and boosts your data throughput 12 times! It is capable of transfering data up to 300Mbps. The Wireless-300N USB Dish Adapter is designed with advanced Directional Dish Technology for excellent range and performance.  A built-in dual antenna concentrates wireless signals for extended wireless range of up to 600%*, compared to a standard network adapter. It is the most powerful 802.11n Wireless Networking Adapter on the market. Furthermore, it is backward compatible with Wireless 802.11b and 802.11g and will operate on the highest throughput that your network allows.
Installation of the HWDN1 Wireless-300N Dish Adapter is simple and straight forward - run the setup CD and connect the Dish Adapter to your notebook or desktop through an available USB port.  To achieve the maximum wireless range and performance, direct the HWDN1 towards a wireless source and you are ready to connect!
Hawking  [HWDN1] is based on the Ralink RT2870 series USB Wireless LAN Card.
Device Name: HWDN1 Hawking Technologies Hi-Gain USB Wireless-300N Dish Adapter
Hardware ID: USB\VID_0E66&PID_0003
Hawking  [HWDN1] Hi-Gain Wireless-300N USB Dish Adapter Windows Driver, Utility:
Hawking  [HWDN1] Hi-Gain Wireless-300N Windows 2000/XP/Vista/Win 7 Driver: Download
Download (8.94 MB), Includes Driver & Utility, User Manual, and QIG. 04/29/2008
Hawking  [HWDN1] Driver for Mac OS (Snow Leopard): Download