---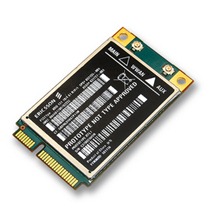 HP Mobile Broadband Modules for select HP Business Notebooks use integrated WWAN technology that allows connection to, and permits roaming on, wireless networks in many countries worldwide. (Separately purchased carrier service required.)
Mobile Broadband Modules:
HP un2430 EV-DO/HSDPA Mobile Broadband Module: QC430AA
HP hs2340 HSPA+ Mobile Broadband Module: QC431AA
HP un2420 EV-DO/HSDPA Mobile Broadband Module: WD301AA
Key Benefits
Integrated 3G or 4G WWAN technology from Qualcomm or Ericsson enables high-speed Internet access with a single wireless solution.
Gobi technology from Qualcomm (QC430AA/WD301AA) allows you to connect in more places* at Broadband speeds with no need to find a Wi-Fi hotspot, and provides access to both CDMA2000 EV-DO and UMTS/HSDPA wireless networks.
The Ericsson mobile broadband module (QC431AA) allows you to connect at 4G speeds so you can get your work done faster than with a 3G connection.
All cards allow international roaming in many countries** through support for multiple UMTS/HSDPA frequency bands and four GPRS/EDGE bands (varies by card, see table on next page) commonly used worldwide.
Integrated GPS can help you accurately identify your location around the world and permit personal navigation to guide you where you need to go.
Technical Specifications
HP un2430 EV-DO/HSDPA Mobile Broadband Module
HP hs2340 HSPA+ Mobile Broadband Module
HP un2420 EV-DO/HSDPA Mobile Broadband Module
GSM/GPRS/EDGE: 850MHz(Cell), 900MHz(EGSM), 1800MHz(DCS), 1900MHz (PCS)
UMTS/WCDMA with receive diversity: 2100MHz (UTRA FDD Band I), 1900MHz (UTRA FDD Band II), 900MHz (UTRA FDD Band VIII), 850MHz (UTRA FDD Band V)
1xEVDO/1xRTT with receive diversity: 850MHz (Band Class0-Cell), 1900MHz (Band Class1-PCS)
GSM/GPRS/EDGE: 850MHz(Cell), 900MHz(EGSM), 1800MHz(DCS), 1900MHz (PCS)
UMTS/WCDMA with receive diversity: 2100MHz (UTRA FDD Band I), 1900Mhz (UTRA FDD Band II), 900Mhz(UTRA FDD Band VIII), 850 MHz (UTRA FDD Band V)
GSM/GPRS/EDGE: 850MHz(Cell), 900MHz(EGSM), 1800MHz(DCS), 1900MHz (PCS)
UMTS/WCDMA with receive diversity: 2100MHz (UTRA FDD Band I), 1900MHz (UTRA FDD Band II), 900MHz (UTRA FDD Band VIII), 850MHz (UTRA FDD Band V)
1xEVDO/1xRTT with receive diversity: 850MHz (Band Class0-Cell), 1900MHz (Band Class1-PCS)
[ Read more … ]