---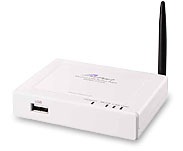 Wireless Network products – Wide IEEE802.11 a or g/b Mini Converter.
"WN-WAG/CM" is wireless LAN in accordance with IEEE802.11a/g/b of palmtop. It is possible to make it to the wireless at once by connecting it with equipment such as the digital consumer electronicss and game machines equipped with (LAN) port.
"WN-WAG/AM-C" is a set model of the main phone (access point "WN-WAG/AM") for wireless LAN and the cordless handset ("WN-WAG/CM").
I-O DATA WN-WAG/AM Wireless LAN Router Firmware for Windows:
Download 1, Download 2 (Posted date: 2010/09/07, Ver.1.04)