---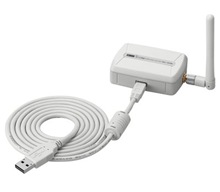 USB (2.0 or 1.1) of wireless data communication with a PC connected to the port. The power will be supplied from an external power source to connect to a PC is required.
With a USB connection interface (USB2.0/1.1).
802.11a (J52/W52/W53), 802.11g / b Wireless LAN.
High-speed wireless LAN technology "Super AG" support.
Authentication encryption WPA2, WPA2-PSK, 802.1X/EAP support.
Supported by an external antenna, antenna options can be selected according to the environment.
Device Name: Icom 802.11a/b/g Wireless LAN SU-50W (Usb 2.0)
Hardware ID: USB\VID_0C26&PID_0015
Download ICOM SU-50W Wireless 802.11a/b/g USB Adapter Windows 2000/XP/Vista Drivers, Utility:
Version: Ver. 2.18 Release date: 2007/10/22
Download 1, Download 2 (10.95 MB)
Note: WPA and WPA-PSK will only under the Windows Vista / Windows XP .