---
Tool Tips

Tool tips display when the mouse pointer rolls over the icon. The tool tips display text for each of the connection states.






Desktop Alerts


When user action is required, a desktop alert displays. If you click the alert, then an appropriate action is taken. For example when wireless networks are found, the following alert displays: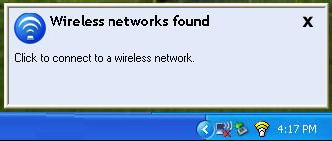 Action
Click the desktop alert to connect to network in the Wireless Networks list.
Once connected, the alert displays the wireless network that you are connected to, the speed of the connection, signal quality and IP address.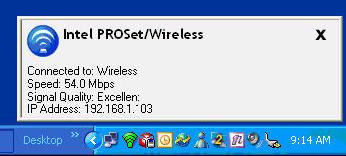 ?br />
Desktop alerts are also used to indicate if there is a connection problem. Click the alert to open the Intel Wireless Troubleshooter.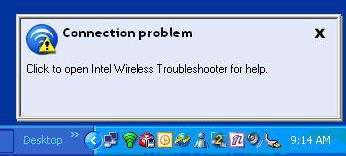 Operating System:
Windows* XP Professional x64 Edition, Windows* 2000, Windows* XP 64-Bit Edition, Windows* XP Professional, Windows* XP Home Edition, Windows* XP Tablet PC Edition, Windows* XP Media Center Edition
This applies to:Intel®PRO/Wireless 2200BG Network Connection
Intel®PRO/Wireless 2915ABG Network Connection
Intel®PRO/Wireless 3945ABG Network Connection
Intel®Wireless WiFi Link 4965AGN