---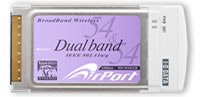 Wireless LAN adaptor for IEEE802.11a/b/g(CardBus PC card).
"WN-WAG/CB" is wireless LAN adaptor of the CardBus PC card type with IEEE802.11a/g/b 3 mode wireless LAN standard. It corresponds to new channel 11a, and eight channels in total that newly add four channels in addition to four past channels can be used.
It corresponds to speed-up technology "Super AG™" of wireless LAN. The transfer efficiency is improved and throughput is improved. The improvement of about twice throughput is achieved. the more maximum than the uncorrespondence.
Please see the explanation page of "I-O DATA" for details of Super AG™.
Device Name: I-O DATA WN-WAG/CB Wireless LAN Adapter

Hardware ID: PCI\VEN_168C&DEV_001B&SUBSYS_D04010FC
I-O Data WN-WAG/CB Wireless LAN Adapter Windows 98,ME,2000,XP,Vista Driver, Software:
Download 1, Download 2 ( January 15, 2008, Ver.1.02)