---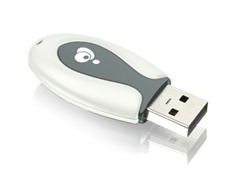 Enhanced Data Rate Bluetooth USB Adapter [ GBU321 ],
Class 1 Bluetooth 2.0 USB Adapter,
IOGEAR's Bluetooth USB Adapter with EDR (Enhanced Data Rate) technology deliver faster wireless data transfer speed, improved bandwidth and draw less power than ever before. Now when you add Bluetooth wireless technology to your desktop or notebook PC or Mac, you'll be able to wirelessly transfer photos from your Bluetooth camera phone to your computer. You can also use your Bluetooth headset to make wireless Internet calls (Skype, MSN messenger, etc.)
This Bluetooth Class 1 adapter is compatible with both Mac and PC computers, and offers a wireless range of 330 feet (100 meter). It is easy to install and use, and very portable. It's great for both home and mobile networking needs.
Download IOGEAR GBU321 Bluetooth Adapter Windows 2000, XP, Vista, Win7 Drivers & Utility:
For Windows Vista 32-bit/64bit, Windows 7 32/64bit,
Download (105.62 MB, Version 6.2.1.500, October 22, 2009 )
For Windows 2000, Windows XP 32-bit/64-bit,
Download (105.62 MB, Version 5.5.0.7900, October 22, 2009 )
[ From IOGEAR ]