---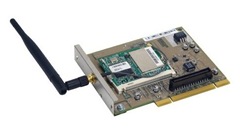 MarkNet™ N8050 802.11g Wireless Print Server
Security-Minded Printing on Fast 802.11g Wireless Networks
Network Communications Security

SSL* protocol secures PDF direct printing and connections to the device's embedded web server to protect configuration and device status messages. SNMPv3 supports encrypted and authenticated management traffic protecting remote configuration and device status messages. IPSec can be used with both TCP/IP IPv4 and IPv6 networks and provides encryption and authentication of communications at the network layer. *This product includes software developed by the OpenSSL Project for use in the OpenSSL Toolkit.
Network Protocol Support

MarkNet print servers and the standard Ethernet connection support these protocols: TCP/IP IPV4, TCP/IP IPv6, Novell (IPX/SPX including NetWare Directory Services), AppleTalk™ and LexLink (DLC/LLC). All protocols can be active simultaneously. Simultaneous protocol support allows you to print from different systems without reconfiguring the print server.
Embedded Web Page

Supports an embedded Web page with Microsoft Internet Explorer 5.x (or greater), Netscape Navigator 6.x (or later), Apple Safari 1.0 (or later), Mozilla FireFox 1.0 (or later). The embedded web page allows administrators to flash update printer firmware or access printer settings using a web browser to easily monitor printer status and change default settings.
File Information
Title: MarkVision Professional for Microsoft Windows 2000, Windows XP, Windows Vista and Windows 2003 Server.
File Name: Lexmark_MVP_11_2_1.exe