---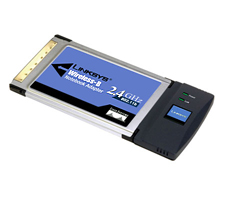 Linksys WPC11 Wireless-B PC Card Adapter:
Whether you're at your desk or in the boardroom, the Linksys Instant Wireless Network PC card allows you to share printers, files, and more anywhere within your wireless LAN infrastructure, increasing your productivity and keeping you in touch.
Features:
11 Mbps high-speed transfer rate
Advanced Power Management features conserve valuable notebook PC battery life
Compatible with Windows 98SE, ME, 2000, XP
Rugged metal design with integrated antenna
Works with all standard Internet applications
Please ensure you select the correct version as not all downloads are compatible with your device.
How to find your version number?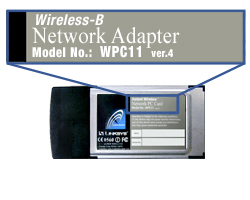 For Version 1.0:
Device Name: Instant Wireless - Network PC CARD
Hardware ID: PCMCIA\Instant_Wireless_-_Network_PC_CARD-317F
Win95, 98, ME, 2000 Drivers (210KB) + Wireless Utility (2.10 MB), 7/20/2005,
WinXP Driver, Utility, 12/12/2001, 2.73 MB
Linux Driver, 12/12/2001, 294 KB
For Version 2.5: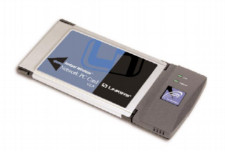 Device Name: Instant Wireless Network PC Card V2.5
Hardware ID: PCMCIA\THE_LINKSYS_GROUP__INC.-INSTANT_WIRELESS_NETWORK_PC_CARD-FA61
WinCE Driver 1.3, 12/27/2001, 2.40 MB
Windows Driver (for Win95, 98, ME, NT, 2000, XP), 1.3, 12/27/2001, 5.55 MB
Linux Driver, 1.3, 12/27/2001, 294 KB