---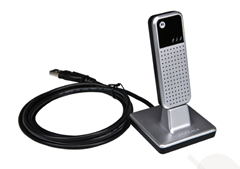 The Motorola 802.11n Dual-band CD-less installation adapter offers secure and easily installed Wi-Fi connectivity for the home
The Motorola 802.11n Dual-band 2.4 GHz and 5 GHz USB adapter (TER/NUSB) uses the latest generation of wireless technology to provide high-performance networking throughout the house. The Motorola 802.11n Dual-band adapter self-install process includes a built-in plug-and-play, easy-to-use Motorola Wi-Fi installation wizard embedded in the adapter - a "zero-touch" process that enables a secure connection to the home network in a matter of seconds. Motorola's embedded software enables Wi-Fi deployments with high levels of quality, reliability, and customer satisfaction, with low operational and support costs for the telco or MSO.
Integrated security
The Motorola 802.11n Dual-band USB adapter supports strong encryption options by supporting 64/128-bit WEP, WPA/WPA2, and WPA-PSK/WPA2-PSK. In addition, Wi-Fi Protected SetupTM (WPS) functionality enables the non-technical user to easily secure the wireless network and get online in a matter of minutes.
Integrated QoS
The Quality of Service (QoS) features embedded in the adapter include support for the Wi-FiMultimedia (WMM) and 802.11e standards to assist in the delivery of quality-sensitive services like Internet videos or playing online games.
Highlights:
802.11n Draft 2.0 standard backward compatible with 802.11b/g access points
Backward compatible with IEEE 802.11g and IEEE 802.11b devices
Embedded self-installation solution for a CD-less installation experience
Integrated external WPS push button for easy pairingbetween the client and the wireless network
Dual-band 2.4 GHz and 5 GHz support to improve interference avoidance
Ordering Information: TER-NUSB1
Motorola Dual-Band 802.11N Wi-Fi USB Adapter Datasheet: Download