---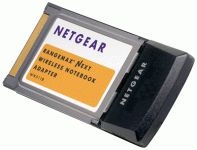 Experience the NEXT generation – up to 270Mbps wireless networking, What does RangeMax™ NEXT Wireless Notebook Adapter do?
• Complies with draft 802.11n, backwards compatible and with 11b/g WiFi
• Delivers a Steady-Stream connection for your notebook computer at great range
• Interoperates at up to 270Mbps with other products with Intensi-fi™ 
• Ensures optimum performance and maximum coverage with preset internal antennas
Netgear WN511B RangeMax Next Wireless Notebook Adapter:
Device Name: RangeMax(tm) NEXT Wireless Notebook Adapter WN511B
Device ID:
PCI\VEN_14E4&DEV_4329&SUBSYS_F03014E4
PCI\VEN_14E4&DEV_4329&SUBSYS_7B001385
WN511B Software Version 6.2, Published Feb 19, 2008
Driver Version: 4.170.75.0 (XP and 2000), 4.170.75.0 (32/64-bit Vista)
Fixes / New Features
Pass WHQL certification for XP, Vista 32 and Vista 64.   
To Install
Download below and save the file to a new folder.
NOTE: After downloading, DO NOT RUN THE FILE YET. Please proceed to Step 2.

Download 1, Download 2 (15.1 MB)

To properly install adapter software, please remove drivers that were previously installed. To uninstall, go to Start > Programs > NETGEAR WN511B adapter > Uninstall NETGEAR WN511B adapter .
Unplug the WN511B adapter from your computer.
Run the file you just downloaded and follow the on-screen install instructions.