---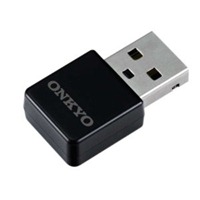 PC and Internet Audio Delivered Wirelessly to Your Main System
Product Features
Provides wireless link to network-capable Onkyo AV receivers and stereo receivers (TX-NRxx9 and later)

Connects directly to receiver via USB

Direct Internet radio playback via wireless router

2.4GHz wireless transmission frequency

Stream Internet radio or your digital music to your home theater

Dimensions: 1.1" x 0.3" x 0.7" (29.8 x 8.4 x 17.0 mm)
Onkyo's mission is to keep you up to date with the latest advances in home entertainment. With wireless audio on the rise, the UWF-1 Wireless LAN adapter helps you integrate your music life and remove unwanted cables. Connected to the USB port on a compatible Onkyo A/V receiver, the UWF-1 brings audio through a wireless router into your main entertainment system. Now Internet radio and audio files stored on your PC can be played back with the superior fidelity of your main Onkyo system--sans the cable clutter.
Works with Network-Capable Onkyo Receivers
The UWF-1 provides a wireless link to network-capable Onkyo A/V receivers and stereo receivers. It connects directly to your receiver via USB and functions on a 2.4GHz Wireless transmission frequency for reliable data transfer. Enjoy direct Internet radio playback via your wireless router along with other wireless features exclusive to network-capable Onkyo receivers and home theater systems.
Note: The UWF-1 is compatible only with Onkyo 2011 network receivers (including the TX-8050 receiver, TX-NRxx9 series receivers, HT-RC3XX home theater systems, and later), and does not connect directly with PCs.
Datasheets:  Onkyo UWF-1 Datasheet
Manuals: Manual_UWF-1_EnFrEsItDeNlSvCtCsRuJaAr.pdf (4.23 MB)
[ From Onkyo ]