---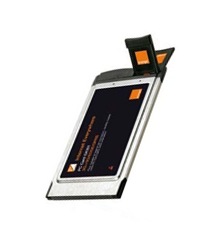 GlobeTrotter GT MAX "7.2 Ready" is the next generation of wireless data network card designed by Option to be compatible with mobile operator infrastructure equipment capable of supporting higher data rates of up to 3.6 Mbps & 7.2mbps updateable. 
GlobeTrotter GT MAX "7.2 Ready" includes Advanced Receiver Technology (ART) offering the benefit of Receive Diversity and Receive Equalization. Both are essential for maximizing the benefits of HSDPA. GlobeTrotter GT MAX brings worldwide broadband wireless capability to laptops and notebooks by combining triple-band HSDPA/UMTS with quad-band EDGE/GPRS technologies in its revolutionary PC Card package. The design of the GlobeTrotter GT MAX incorporates Option`s unique and patented "Butterfly" retractable antenna concept that frees you from the need to remove any part of your card from your notebook for transport.
Feature:
Suitable Network : EDGE, UMTS, HSDPA
Applied Frequency Range: UMTS/HSDPA 850/1900/2100MHz, GPRS/EDGE 850/900/1800/1900 MHz
Interface: PCMCIA TYPE II
Operating System: Windows98/2000/XP/Vista/MAC OS X
Windows 7 certified drivers. For a system upgrade to Win 7 you can use older drivers but for a new Windows 7 system you need these drivers.  New Mobile Broadband features not supported
Download Driver package 4.0.17.0
GlobeTrotter Connect 2.3.0.630, Connection software for Windows 2000, XP and Vista.
Download GlobeTrotter Connect 2.3
GlobeTrotter Connect for Mac 1.3.0.164, Connection software for MAC notebook with Apple Mac OS X 10.3.9, 10.4.11 (and above) and 10.5
Download GlobeTrotter Connect for Mac
This SuperFire will upgrade the firmware on the device to FW2.5.11 and the software on the device will become GlobeTrotter® Connect 2.3.0.630 for Windows and GlobeTrotter® Connect 1.3.0.164 for Mac OS.
Note: the following flasher can not be used with devices purchased through a network operator. Please contact the network operator directly for assistance.
GlobeTrotter GT MAX 7.2: SuperFire, FW2.5.11 (Firmware)