---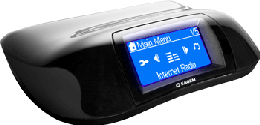 Wifi Internet radio, Music files reading
- From a computer
- Via the USB port
Alarm function
Internet Radio
- Choice between more than 7000 radio stations worldwide
- No need to have a PC on
- Display of the artist's name, the song's title and the following titles (depending on radio station)
- Selection of your 500 favourite radio stations
- Possibility to add your own stations or to make a personal sorting of the stations
Access to the music files stored on a computer (MP3 – WMA– WAV)
- Remote access (Wifi)
- Display of the file's name on the screen
- Compatible softwares: MS MediaServer, Yahoo Music Jukebox
Access to the music files on a USB key (MP3 – WMA – WAV)
- Read music files stored on a USB Key, MP3 reader or a Hard Disk (USB 2.0)
- Memorising of the favourite songs
- Display of the file's name on the screen
Alarm clock
- 2 programmable alarms
- Choice of the alarm ringtone: IP radio, Music file, MP3 music player, buzzer
Connectivity
- WIFI 802.11 b and g
- Ethernet
- USB 2.0 (for reading files)
Audio
- 2 RCA plugs (Output Hi-Fi).
Minimum configuration
- ADSL Internet connection (mini. 1024 kb)
- DHCP compatible router with Ethernet port, or 802.11b or 802.11g wireless access
- Audio amplifier or hi-fi system with RCA inputs
- Computer compatible with UPnP server application (for the reading music files)
- Storage key or external hard Disk compatible USB 2.0 (for USB port)
WI-FI, Microsoft and all other brands mentioned in this document are brands protected by their own companies.
SAGEM COMMUNICATION may, at any time and without notice, make changes or improvements to this product and/or cease producing or commercialising it.
Multilingual Quick Installation Guide - My Web Tuner 500