---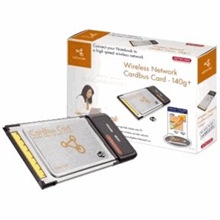 WL-140 Wireless Network Cardbus Card 140g+
By installing this Wireless Network Cardbus Card in your Notebook, you can connect your Notebook directly to a Wireless Network. This makes it possible for you to exchange data between computers over a wireless connection, share peripheral equipment and make a wireless connection to the Internet from anywhere in or around your home! The latest generation of Nitro XM Wireless Network products from Sitecom has an extremely high throughput speed which is twice as high as the current 802.11g standard. The Nitro XM standard is completely and automatically compatible with other Wireless standards which work at the 2.4 GHz frequency, so you don't have to change any settings.
Tips: note the Sitecom WL-140 hardware version.
For Sitecom WL-140 (V1):
Device Name: Sitecom Wireless Network PC Card 140Mbps WL-140
Hardware ID: PCI\VEN_1260&DEV_3886&SUBSYS_003517CF
Download Sitecom WL-140 (V1) Windows 98SE/ME/2000/XP Drivers, Utility. Only for devices with MAC address starting with 00-0C-F6.
Device Name: Sitecom Wireless Network PC Card 140Mbps WL-140
Hardware ID: PCI\VEN_182D&DEV_9780&SUBSYS_0000182D
Sitecom WL-140 (V1) Windows 98SE/ME/2000/XP Drivers, Utility: Download 1, Download 2 (11.56 MB)
WL-140 Vista 32-bit driver:
(beta version) for cards with MAC address 000c84-xxxxxx: Download (1.45 MB)
(beta version), for card with MAC address 000CF6-xxxxxx: Download (359.35 KB)
For Sitecom WL-140 (V2):
Device Name: 54Mbps WLAN Card
Hardware ID: PCI\VEN_1260&DEV_3890&SUBSYS_160516A5
Sitecom WL-140 (V2) Windows 98SE/ME/2000/XP Drivers, Utility: Download 1, Download 2 (17.37 MB)
WL-140v2 Vista 32-bit driver (beta version): Download
[ From Sitecom ]