---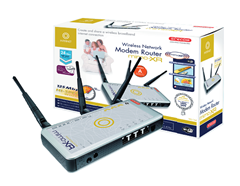 The wireless access point function can let your IEEE 802.11g/b wireless client devices access the Intranet through this router wirelessly. With the MIMO technology, this router enables you to spread the wireless networks at farther distances than before. The router has two antennas for signal reception and one antenna for high power signal transmission. Not only the connection distance is enhanced, but also the "dead spots" in the network will be reduced.
Features:
• Supports ADSL standard G.992.1 (G.dmt), G.992.2 (G.lite), G.992.3 (ADSL2), G.992.4 (splitterless ADSL2), G.992.5 (ADSL2+) for Annex A
• IEEE 802.11g/b 54Mbps MIMO Access Point
• Supports 64-bit/128-bit WEP, WPA-PSK and WPA2-PSK wireless security functions
• Support MAC address filtering
• NAT (Network Address Translation) IP Sharing
• Virtual Server/DMZ
• VPN Pass Through (IPSec/PPTP/L2TP)
• DHCP Server and Client
• ACL/IP Filter/UPnP/SNMP/DDNS access management
• Web User Interface (Remote Configuration)
• Firmware Upgrade
WL-154 firmware 2.9.5.0
Note: Please reset the router after upgrading!
Download (1.15 MB)
WL-154 System Firmware 2.9.5.0, ADSL Firmware 3.5.18.9, (Beta version, for Tiscali issues)
Download (1.15 MB)
Sitecom WL-154 Full Manual: Download (2.41 MB)