---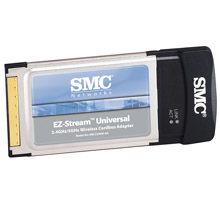 OVERVIEW
The EZ-Stream™ Universal 2.4GHz/5GHz 802.11a/b/g Wireless Cardbus Adapter (SMC2336W-AG) from SMC employs the latest design and technology from Atheros. SMC2336W-AG lets your notebook computer connect to any available 802.11a, 802.11b or 802.11g wireless networks. Now you only need to carry this one Universal Wireless Cardbus Adapter and it works everywhere – whether at the office, at home, or at "hotspot" locations such as hotels, airports, trade shows, conference centers! It is the ultimate in mobility and flexibility in wireless networking. 
SMC2336W-AG, 2.4GHz/5GHz 802.11a/g Universal Wireless Cardbus Adapter has two model (according to Part Number):  *
Where do I find my Part Number?
1. Part Number: 99-012084-180
Device Name: SMC2336W-AG Universal Wireless Cardbus Adapter
Device ID: PCI\VEN_168C&DEV_0013&SUBSYS_233610B8
Download SMC2336W V.1 Windows 2000, XP Drivers/Utility 2.4.0.71, 01/01/2004, 7722 kb, 

2. Part Number: 99-012084-221
Device Name: SMC2336W-AG v2 Universal Wireless Cardbus Adapter
Device ID: PCI\VEN_168C&DEV_0013&SUBSYS_A33610B8
Download SMC2336W V.2 Windows 2000, XP Driver/Utility 2.4.1.32, 01/01/2004, 8239 kb,