---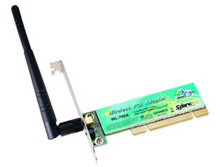 SparkLAN - WL-760A 802.11a/g Dual Band 2.4Ghz / 5.8Ghz 108Mbps Super AG wireless PCI Adapter
The SparkLAN WL-760A Wireless 11a/b/g PCI Adapter offers high-speed wireless connection with a data rate up to 108Mbps. WL-760A supports seamless roaming from cell to cell in all types of wireless networks. You can place your desktop computers anywhere at home or in the office building without any wire limitation.
The SparkLAN WL-760A supports advanced security features including AES and up to 152-bit Wired Equivalent Privacy (WEP) encryption for more secured user network environment. The 3dBi high gain Antenna makes WL-760A more sensitive to the wireless surrounding. Wider and longer receiving range increases your Internet access mobility and still provides the speed you need for large file download, digital video and audio transmissions.
Dual-Band wireless adapter connects your destop PC to 802.11a,802.11b, 802.11g wireless networks. 
Protects your wireless communications with up to 152-bit encryption.
Incredible data rates up to 108Mpbs.
Sparklan WL-760A Dual-Band PCI Card: Win98/ME/2000/XP Drivers
Sparklan WL-760A Dual-Band PCI Card: Driver for Vista 32/64bit