---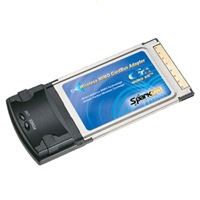 Extend your coverage
SparkLAN WPCR-300 Cardbus adapter is configured with MIMO technology that can give the data rate a boost and reach a farther coverage while offering 100% backwards compatibility and support for existing 802.11b/g gadgets. Therefore, WPCR-300 cardbus adapter enables robust stability, superior performance, and wider coverage that you require. WPCR-300 Cardbus is your ideal MIMO wireless client adapter for the most demanding notebook computer users.
Ensure your security and privacy
As the reach of your wireless network extends further, network security is a key factor. WPCR-300 combines up to 128bit WEP Encryption, Wi-Fi Protected Access Pre-Shared Key (WPA-PSK), and Wireless Access Control (SSID) to protect for your laptop from hacker and intruders.
SparkLAN WPCR-300 MIMO-G Adapter is another Ralink RT2561 & RT2661 series Wireless LAN Card.
Device Name: MIMO XR Cardbus Adapter
Device ID: PCI\VEN_1814&DEV_0401&SUBSYS_001117F9
SparkLAN WPCR-300 MIMO-G Wireless Cardbus Adapter Windows 98/2000/XP Drivers, Utility:
Download 1, Download 2 (4.41 MB)
SparkLAN WPCR-300 MIMO-G Wireless Cardbus Adapter Windows Vista Drivers, Utility:
Download 1, Download 2 (3.42 MB)