---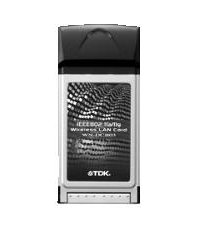 This is a PC card (Cardbus) type wireless LAN card that complies with the IEEE802.11a and IEEE 802.11g standards.You can choose the best communication method depending on the wireless conditions and the layout of the building.
FEATURES
• Complies with the 802.11a and 802.11g standards.
• Supports WEP (64-, 128- and 152-bit), IEEE802.1x (EAP-TLS) and WPA for enhanced security functions.
• It is equipped with a diversity antenna to provide stable communication.
Device Name: TDK WN-DCB(MP)01 Wireless Network Adapter
Hardware ID: PCI\VEN_168C&DEV_0012&SUBSYS_002712AF
Device Name: TDK WN-DCB(MP)02 Wireless Network Adapter
Hardware ID: 
PCI\VEN_168C&DEV_0012&SUBSYS_002C12AF
PCI\VEN_168C&DEV_0012&SUBSYS_002B12AF
TDK WN-DCB Series Wireless Adapter Windows 2000/XP & 98SE/Me Drivers:
This driver also support these wireless device:
NTT-ME MN-WLC 54a/11b combo W-LAN Card
(Hardware ID: PCI\VEN_168C&DEV_0012&SUBSYS_002612AF),
802.11a+b Combo Wireless LAN Adapter
(Hardware ID: PCI\VEN_168C&DEV_0012&SUBSYS_002812AF, PCI\VEN_168C&DEV_0012&SUBSYS_002912AF, PCI\VEN_168C&DEV_0012&SUBSYS_002D12AF, PCI\VEN_168C&DEV_0012&SUBSYS_002E12AF)