---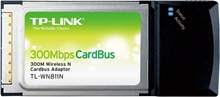 The TP-LINK 300Mbps Wireless N Cardbus Adapter TL-WN811N is an IEEE802.11n client device; it is designed to provide a high-speed and unrivaled wireless performance for your notebook. With a faster wireless connection, you can get a better Internet experience, such as downloading, gaming, video streaming and so on.
Wireless N speed up to 300Mbps makes it ideal for bandwidth consuming or interruption sensitive applications like video streaming, online gaming and voice over Internet
MIMO™ technology provides robust high-bandwidth wireless Tx/Rx capability at further range
CCA™ improves wireless performance while automatically avoiding channel conflict
32-bit Cardbus connector, for notebook PC
Provides Infrastructure and Ad-Hoc modes
Quick Secure Setup, complies with WPS for worry free wireless security
Supports 64/128/152 strength WEP encryptions, as well as WPA/WPA2 and WPA-PSK/WPA2-PSK encryptions
Easy utility configuration and monitoring
Supports Roaming technology, guarantees efficient wireless connections
Supports Windows 2000/XP/Vista/Win 7
There are multiple revisions of the TP-Link TL-WN811N.
* To check the hardware version of the TP-LINK product, please turn over the device, and then you can see a label at the back of the device. There is a character string "Ver:X.Y" (for example, Ver:1.0) in the Serial Number field, and the number X is the hardware version of the device. If the string is "Ver: 1.1", it means that the hardware version is V1.
Download TP-Link TL-WN811N V1 Wireless Adapter Win2000, XP, Vista Driver, Utility:
TL-WN811N_080822 (Published Date: 8/22/2008; File Size: 13.642MB)
11n QSS Utility (Published Date: 7/3/2008; File Size: 4.357 MB)
Download TP-Link TL-WN811N V2 Wireless Adapter Win2000, XP, Vista, Win7 Driver, Utility:
TL-WN811N_v2_100329
  (Published Date: 3/29/2010; File Size: 28.6 MB)
Documents:
TP-Link TL-WN811N V2 User Guide, English, TL-WN811N_v2_User_Guide, 1.610 MB
TP-Link TL-WN811N V1 User Guide, English, TL-WN811N User Guide, 726.517 KB
TP-Link TL-WN811N Datasheet, English, TL-WN811N_Datasheet, 0.768 MB