---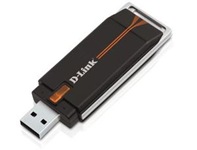 D-Link's easy-to-use Wireless G USB Adapter (WUA-1340) is ideal for adding basic wireless connectivity to your desktop or notebook PC.
BASIC WIRELESS CONNECTIVITY
Connect to your wireless network from your desktop or notebook PC using the D-Link Wireless G USB Adapter (WUA-1340) and browse the web, check e-mail, and chat with friends and family online. The Wireless G USB Adapter offers simple network connectivity without the hassle of running a network cable. Set up the USB Adapter in minutes with D-Link's Quick Setup Wizard. In addition, D-Link's new configuration utility detects available wireless networks so you can quickly connect to a network.
Device Name: D-Link WUA-1340 USB Adapter
Device ID: USB\VID_07D1&PID_3C04
Download
Version
Operating System(OS)
Date
1.0.4.0
Linux
1/28/2008
supports the following Linux systems

-Redhat Enterprise 5(RHEL5)_Kernel_2.6.18-8.el5xen
-Fedora Core 6 (FC6)_Kernel_2.6.18-1.2798.fc6
-Mandriva 2007.1 (M2007.1)_Kernel_2.6.17-13mdv
-SUSE Linux Enterprise 10 (Suse10)_Kernel_2.6.16.21-0.8-smp
1.17
Mac OS
12/26/2007
Mac OS X 10.3.X or 10.4.X
- driver version 1.1.7.0
- UI version 2.1.0.0
1.30
Win2K, WinXP, Vista 32, Vista 64
9/20/2007
-Added Wi-Fi WPS Feature.
-Vista 32/64 (WHQL) Driver.
-XP (WHQL) ,2k (WHQL) Driver.