---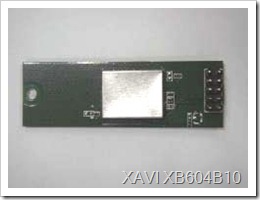 XB604B10 is an integrated the Ralink RT3070 single-chip 2.4GHz IEEE802.11b/g/n 1T1R MAC/Baseband/Radio with USB2.0 interface. XW604B10 fully complies with IEEE802.11n and IEEE802.11b/g feature rich wireless connectivity at high standards, delivers reliable, cost-effective, throughput from an extended distance.
Features:
Interoperable with IEEE802.11b/g/n WLAN.
Reverse direction grant data flow and frame aggregation.
Support 65 Mbps for 20MHz and 150Mbps for 40MHz channel operations.
Wireless multimedia enhancements quality of service support (QoS).
Legacy and high throughput modes.
Multiple BSSID support.
WEP 64/128, WPA, WPA2, TKIP, and AES hardware encryption.
Xavi XB604B10 802.11b/g/n Wireless LAN USB Card Win2000,XP,Vista,Win7 Drivers,Software:
(Ralink RT3070 windows software for Win2000, XP 32/64, Vista 32/64bit and Win7 32/64bit)