---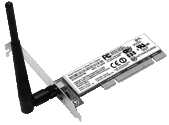 Device Name: 3Com 3CRDAG675B Wireless LAN PCI Adapter
Device ID: PCI\VEN_168C&DEV_001B&SUBSYS_6803A727
Download 3Com 3CRDAG675B Wireless LAN PCI Adapter Windows 2000, XP, Vista Drivers:
3CRDAG675B_8_06_2007.exe ,  06 Aug 2007 , 0.28 MB

This file contains Windows Vista drivers only, version 7.2.0.208.
---
3CRDAG675B_09_19_2005, 19 Sep 2005, 1.1.0.21, 20.74 MB

Installation files with driver for the 3CRDAG675B, 3Com Wireless 11a/b/g PCI Adapter. This is a self-extracting file that will extract the installation files and driver to a location on your hard drive (default C:\3com). Includes 3Com Wireless 11a/b/g PCI adapter Driver and 3Com Wireless Utility ver 1.1.0.21 for 3CRDAG675B.
Supported OS are: Windows XP and Windows 2000.