---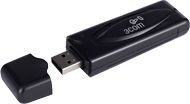 The 3Com® Wireless 11n USB Adapter provides complete access to 2.4 GHz and 5GHz IEEE 802.11a, 802.11b, 802.11g and 802.11n wireless networks, delivering the flexibility to place your PC in a convenient location and continue to access the the most common wireless networks.
Convenient USB adaptor provides installation flexibility
Wi-Fi a/b/g/n CERTIFIED®, Compatible with existing 802.11a, 02.11b and 802.11g networks
IEEE 802.1X network access control and EAP authentication support the latest, most effective authentication techniques to thwart intruders and simplify network management
Wi-Fi Protected Access 2 (WPA2) and 128-bit Advanced Encryption Standard (AES) encryption
Wi-Fi Multimedia (WMM) adds managed QoS, based on the IEEE 802.11e standard; critical for the new generation of delay-sensitive data, voice, and video applications
Device Name: 3Com Dual Band 802.11n USB Adapter
Device ID: USB\VID_0CF3&PID_1010
3Com 3CRUSBN275  is based on the Atheros USB 802.11n wireless chipset. It's almost same to H3C WN612 802.11n Wireless USB Adapter.
3Com 3CRUSBN275 Wireless 11n USB Adapter Windows 2000/XP Driver: Download
3Com 3CRUSBN275 Wireless 11n USB Adapter Windows 7 Driver: Download Here