---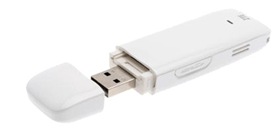 The ZTE MF636 USB modem is a multi-mode 3G USB modem, working in HSUPA/ HSDPA/ UMTS/ EDGE/ GPRS/ GSM networks. With USB interface connecting to a laptop or a desktop PC, it integrates the functionality of a modem and a mobile phone (SMS), and combines mobile communication with Internet perfectly. It supports data and SMS services through the mobile phone network, enabling you to communicate anytime and anywhere.
Features:
3G+/HSUPA gives you faster broadband speeds on the move at home and abroad
download speeds up to 7.2 Mbps enhances applications where bigger file downloads or faster data streaming is required
upload speeds up to 4.5Mbps mean you can now send important information as quickly as you receive it
plug and play format lets you connect easily on the move
integrated micro-SD card reader lets you exchange data easily between your handset and laptop
Business Everywhere connection manager software manages mobile broadband, WiFi and text messaging in a simple dashboard display. Powerful IT administrator features also allow you to enforce business rules relating to cost management and security for all mobile broadband users
ZTE MF636 3G USB Modem Windows 7 Driver, Connection Utility:
Windows 7 Driver: Windows 7 Driver Tool (3.2MB), 02/11/09; Do NOT uninstall your software. Please read these instructions. (Windows 7 Drivers Installation Guide.pdf)
PC Software, Connection Manager (10.61MB), 13/10/08, Download 1, Download 2
MAC Software, Connection Manager (2.30MB), 13/10/08, Download 1, Download 2
*** Windows 7 Drivers are not native to the MF636. Download the above driver tool and follow the instructions provided.
*** How to download and install the Connection Manager?
CLICK on the Connection Manager link above
When the Download window appears asking "Do you want to open or save file?", CLICK save
Choose a location to save the WinZip file.
Once downloaded, DOUBLE-CLICK the file and extract the contents.
Note the update will not run from the zip file
OPEN the extracted folder and DOUBLE-CLICK Setup to start the installation process.
If you have a previous version installed please UNINSTALL first.
DO NOT have your device inserted during the software install
IMPORTANT NOTES
The PC Software supports Windows Vista, Windows XP (SP2 & SP3) and Windows 2000 (SP4)
MAC OS 10.5 and above is supported, 32 bit only
This device is "Network Locked" please contact your Service Provider to unlock your device.
[From ZTE]