---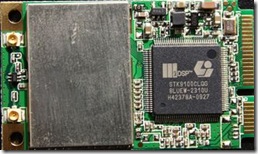 Overview
The 3DSP BlueW2310 product provides the highest level of integration and most aggressive BOM cost by integrating IEEE 802.11b/g and BLUETOOTH 2.1 + EDR into a single MAC/Baseband chip utilizing a single 2.4GHz transceiver. Integrated on-chip power amplifier and LNA reduce external component count, while still able to deliver ample transmit power for most applications.
Single-band 2.4-GHz 802.11g/b with up to 54Mbps data rate
Integrated on-chip PA capable of delivering 18dBm output power
Bluetooth 2.1 + EDR compliant
Hardware Info:
WLAN Device Name: 3DSP Wireless 802.11 B+G USB Adapter
WLAN Hardware ID: USB\VID_05E1&PID_0100
Bluetooth Device Name:
Bluetooth Device
Bluetooth Hardware ID:
USB\VID_08FD&PID_0001
Download 3DSP Bluew-2310u WLAN and Bluetooth Mini-PCIe Card Windows/Ubuntu Driver, Sofware:
[2009-05-06] WinXP/2K[SP4]/2003/Vista(32Bit)
[2009-04-24] Vista (64Bit)
[2010-01-25] Windows7 (32Bit)
[2010-01-25] Windows7 (64Bit)
[2009-07-24] Ubuntu9.04(Kernel2.6.28-11/13-generic) (32bit)
[2009-12-11] Ubuntu9.10(Kernel 2.6.31-14-generic)(32bit)
[2009-12-25] Ubuntu9.10(Kernel 2.6.31-14-generic)Beta(64bit)

[2008-07-01] User's Manual
If you need more linux driver for 3DSP Bluew-2310x, please enter Here.