---
Note:

Start Intel® PROSet/Wireless using one of the following methods:牋
Click Start > All Programs > Intel PROSet Wireless > Intel PROSet Wireless.
Right-click the Taskbar icon?img alt="" src="http://support.intel.com/support/wireless/wlan/sb/img/image1_ipswtaskbaricon.jpg" border="0" /> located in the lower right corner of your Windows Desktop to open the Taskbar menu.?Click Open Intel PROSet/Wireless.
Double-click the Taskbar icon to open Intel PROSet/Wireless.From the Intel PROSet/Wireless main爓indow, click Profiles.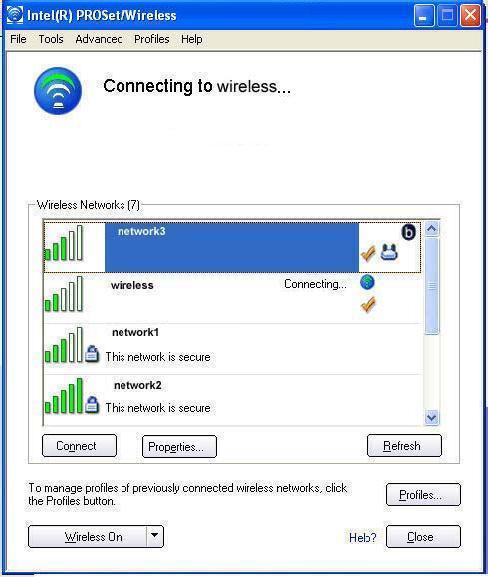 Export or Import Profiles
Allows you to export and import user-based profiles to and from the Profiles list. Wireless profiles can be automatically imported into the Profiles list.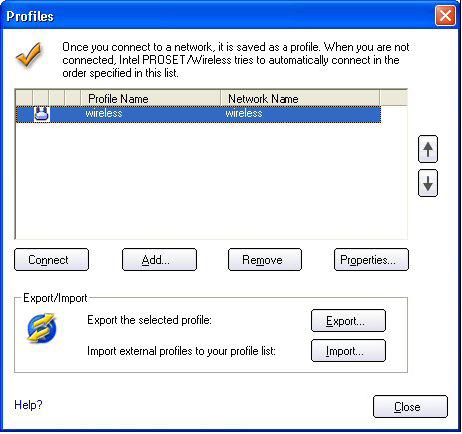 Export Profiles from the Profiles List
Select individual or multiple profiles from the list.
Select Export to export one or more profiles from the Profiles list.
Select the destination folder. Click Browse to search your hard disk for the destination directory. The C:\ drive is the default directory.




Click OK to export the selected profile. You are notified: Successfully exported selected profiles to the destination folder: C:\.
To select multiple profiles:
Use your mouse to highlight a profile.
Press Ctrl.
Click each profile that you want selected. Follow the instructions from Step 2 above to export multiple profiles.
Import Profiles into the Profiles List
To import profiles manually:
Click Import on the Profiles list.
Select the profile files to import.
Click Import.
You are notified that the profile has been successfully imported.
An administrator can set profiles to be imported automatically into the Profiles list. Intel PROSet/Wireless monitors the import folder on your hard disk for new profile files. Only profiles that have been enabled through Enable Auto-Import in the Advanced Settings are automatically imported. If a profile of the same name already exists in the Profiles List, you are notified to either reject the imported profile or accept it. If accepted, the existing profile is replaced.
All imported user-based profiles are placed at the bottom of the Profiles List.
Password Protected Profiles
Import and export password-protected user-based profiles automatically to remote systems. If a profile is password protected, the assigned password must be entered before it can be edited.
Operating System:
Windows* XP Professional x64 Edition, Windows* 2000, Windows* XP 64-Bit Edition, Windows* XP Professional, Windows* XP Home Edition, Windows* XP Tablet PC Edition, Windows* XP Media Center Edition
This applies to:Intel®PRO/Wireless 2200BG Network Connection
Intel®PRO/Wireless 2915ABG Network Connection
Intel®PRO/Wireless 3945ABG Network Connection
Intel®Wireless WiFi Link 4965AGN