---
Note: Start Intel® PROSet/Wireless using one of the following methods:


Click Start>All Programs>Intel PROSet Wireless>Intel PROSet Wireless.
Right-click the Taskbar icon located in the lower right corner of your Windows Desktop to open the Taskbar menu. Click Open Intel PROSet/Wireless.
Double-click the Taskbar icon to open Intel PROSet/Wireless.From the Intel PROSet/Wireless main window, click Profiles.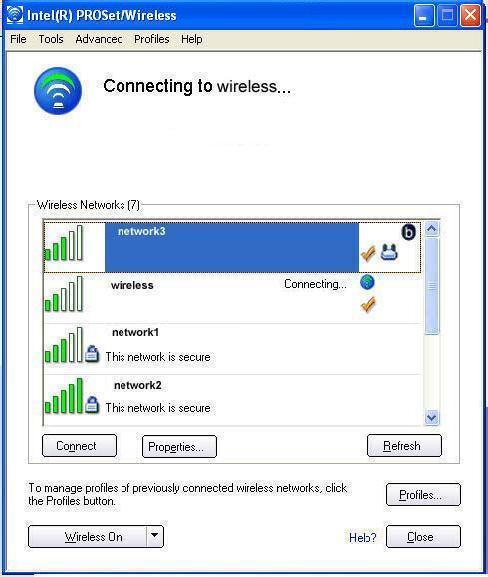 Set a Profile Password
To password protect an existing profile:
Click Profiles on the Intel PROSet/Wireless main window.
Select the profile from the list.
Click Properties to open the Wireless Profile Properties' General Settings.
Click Advanced to open the Advanced Settings.
Click Password Protection to open the Password Protection settings.
Click Password protect this profile (maximum 10 characters).
Password: Type the password.
Confirm Password: Reenter the password.
Click OK to save the setting and return to the General Settings page.
Click OK to return to the Intel PROSet/Wireless main window.
Operating System:
Windows* XP Professional x64 Edition, Windows* 2000, Windows* XP 64-Bit Edition, Windows* XP Professional, Windows* XP Home Edition, Windows* XP Tablet PC Edition
This applies to:Intel®PRO/Wireless 2200BG Network Connection
Intel®PRO/Wireless 2915ABG Network Connection
Intel®PRO/Wireless 3945ABG Network Connection
Intel®Wireless WiFi Link 4965AGN