---
The Intel® PROSet/Wireless Main Window allows you to:

View the current connection status (signal quality, speed and current network name)
Scan for available wireless networks
Manage profiles
Auto-connect profiles to available networks in a specific order defined in the Profile list
Connect to Infrastructure and Device to Device (ad hoc) networks
Configure adapter settings
Troubleshoot wireless connection problems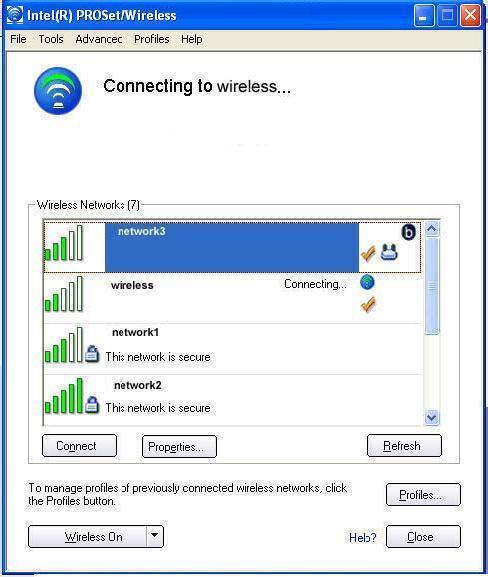 Exclude List Management (Profiles Menu)

Exclude List Management is available when you either select Manage Exclusions from the Profiles menu or click the Properties button on the Wireless Networks list.
Note: If an administrator has designated a network for exclusion, only an administrator within the Administrator Tool may remove the network from the Exclude List.
IMPORTANT: You are not automatically connected to a network or an access point that is in this list.
Use Exclude List Management to exclude entire wireless networks (SSID).


Exclude List Management

Network Name: Name (SSID) of the wireless network.
Radio: Displays the band if there is a DHCP error.
MAC Address: The Ethernet MAC address of the device.
Reason: Explains why this entry was excluded from automatic connection.
Details: Provides specific information on how the access point was excluded and how to remove it from exclusion.
Message:
This network has been excluded from automatic connection for the following reasons.
User has excluded this network manually.
To make this network (or access points) eligible for automatic connection again, select it and click the Remove button.
Note:
The Reset button removes all entries except rogue access points from the list.
Rogue access points are removed from the list when a connection is made to this access point using valid credentials.
All excluded access points in a network (other than rogue) are removed from the list when a profile for that network is applied manually
Note: Entries that are dimmed are excluded rouge access points. A rogue access point is any access point unsanctioned by network administrators. These entries cannot be removed from the list.

Add

Click the Add button to enter the network name (SSID) that you want to add to the Exclude List.
Network Name: Enter the network name.
Click OK .

Remove

Remove an entry from the list.
Select the entry from the list.
Click Remove.
You are asked: Do you want to remove the selected item from the Exclude List?
Click Yes to remove the network from the list.

Reset list

Removes all of the networks and access points from the Exclude List.

Close

Closes page and saves settings.


Help?

Provides help information for this page.

Operating System:
Windows* XP Professional x64 Edition, Windows* 2000, Windows* XP 64-Bit Edition, Windows* XP Professional, Windows* XP Home Edition, Windows* XP Tablet PC Edition, Windows* XP Media Center Edition
This applies to:Intel®PRO/Wireless 2200BG Network Connection
Intel®PRO/Wireless 2915ABG Network Connection
Intel®PRO/Wireless 3945ABG Network Connection
Intel®Wireless WiFi Link 4965AGN