---
The Intel® PROSet/Wireless Main Window allows you to:

View the current connection status (signal quality, speed and current network name)
Scan for available wireless networks
Manage profiles
Auto-connect profiles to available networks in a specific order defined in the Profile list
Connect to Infrastructure and Device to Device (ad hoc) networks
Configure adapter settings
Troubleshoot wireless connection problems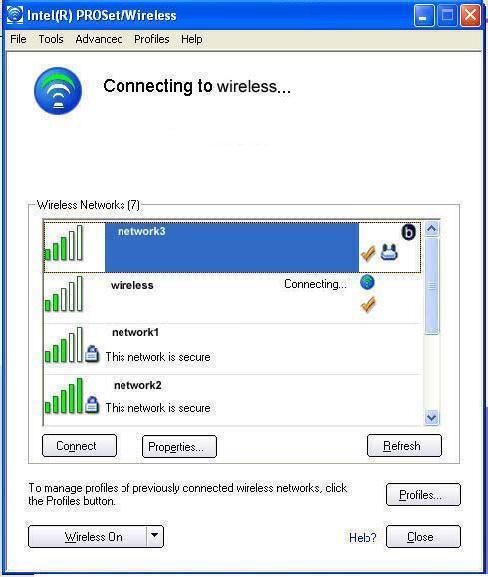 Turn Wireless Radio On or Off

To switch the wireless radio on or off, use one of the following:
The optional hardware radio switch on your computer
Intel PROSet/Wireless software
Windows*
Note: When your computer is switched on, the radio is constantly transmitting signals. In certain situations, as in an airplane, signals from the radio may cause interference. Use the following methods if you need to disable the radio and use your notebook without emitting radio signals.

Use the Optional Computer Radio On or Off Switch

If your computer has an external switch installed, use it to switch the radio on or off. See the computer manufacturer for more information about this switch. If you have Intel PROSet/Wireless installed, the current state of the radio displays in the Intel PROSet/Wireless main window and on the Taskbar.


Use Intel PROSet/Wireless to Switch the Radio On or Off

From Intel PROSet/Wireless, the radio can be switched on or off. The status icon on Intel PROSet/Wireless displays the current state of the radio.

From the Intel PROSet/Wireless main Window, click Wireless On or Wireless Off to toggle the radio on or off.


Switch the Radio On or Off from the Taskbar Icon

To switch the radio on or off, click the Taskbar icon

and select Wireless On or Wireless Off.


How to use the Device Manager to Disable the Radio

The radio can be disabled (made non-functional) from the Windows* Device Manager.

Note: If you disabled the radio from Windows, then you must use Windows to turn the radio on. You cannot use a hardware switch or Intel PROSet/Wireless to enable the radio again.

Windows* XP
From your desktop, right-click My Computer .
Click Properties .
Click Hardware .
Click Device Manager .
Double-click Network adapters .
Right-click the installed wireless adapter.
Choose Disable from the menu.
Click OK .
Windows Vista*
Use Control Panel > Mobile PC > Adjust commonly used mobility settings (if you use Classic View, select Control Panel > Power Options .
Click Turn Wireless Off .
Operating System:
Windows* XP Professional x64 Edition, Windows* 2000, Windows* XP 64-Bit Edition, Windows* XP Professional, Windows* XP Home Edition, Windows* XP Tablet PC Edition, Windows* XP Media Center Edition
This applies to:Intel®PRO/Wireless 2200BG Network Connection
Intel®PRO/Wireless 2915ABG Network Connection
Intel®PRO/Wireless 3945ABG Network Connection
Intel®Wireless WiFi Link 4965AGN