---
The Intel® PROSet/Wireless Main Window allows you to:


View the current connection status (signal quality, speed and current network name)
Scan for available wireless networks
Manage profiles
Auto-connect profiles to available networks in a specific order defined in the Profile list
Connect to Infrastructure and Device to Device (ad hoc) networks
Configure adapter settings
Troubleshoot wireless connection problems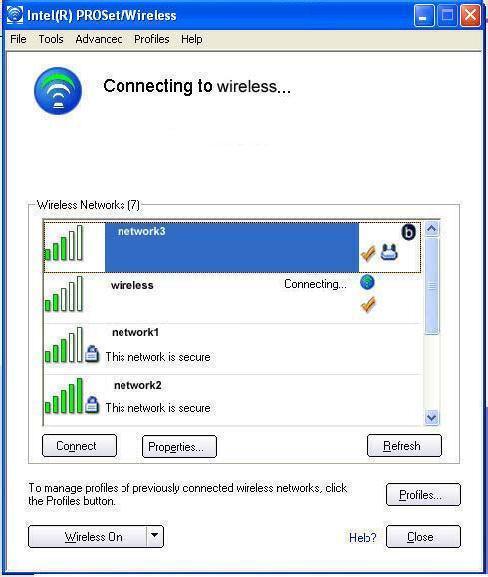 Network Name:

Displays the wireless network name.

Band:

Current band and frequency being used. Displays Out of Range if no band and frequency is displayed. The following bands are listed:
802.11a
802.11b
802.11g
802.11n
Operation Mode:
?br />Displays the current operating mode:
Network (Infrastructure)
A wireless network centered around an access point. In this environment, the access point not only provides communication with the wired network, but also mediates wireless network traffic in the immediate neighborhood.
Device to Device (ad hoc)
A communication configuration in which every computer has the same capabilities, and any computer can initiate a communication session. Also known as a peer-to-peer network or a computer-to-computer network.
Authentication Level:
Displays the current authentication security mode for the profile being used. The following network authentication levels are listed:
Open
Shared
WPA-Enterprise
WPA2-Enterprise
WPA-Personal
WPA2-Personal

Displays the 802.11 authentication used by the currently used profile.
Data Encryption:
The following Data Encryption settings are listed:
Access Points in this Network (0-50):
Signal Strength: The Signal strength icon bars indicate the strength of the transmit and receive signals between your wireless adapter and the nearest access point.
Bamd: 802.11a, 802.11b, 802.11g or 802.11n
Channel: Displays the current transmit and receive channel being used for a particular wireless network.
BSSID (Infrastructure operating mode): Displays the twelve-digit MAC address of the access point of the selected network.
Manage Exclusions:

Exclude List Management is available when you either select Manage Exclusions from the Profiles menu or click the Properties button on the Wireless Networks list.
Note:
If an administrator has designated a network for exclusion, only an administrator within the Administrator Tool may remove the network from the Exclude List.
Important:
You are not automatically connected to a network or an access point that is in this list.
Use Exclude List Management to exclude entire wireless networks (SSID).
Close

Closes the Network Properties.
Help?

Provides help information for this page.
Operating System:
Windows* XP Professional x64 Edition, Windows* 2000, Windows* XP 64-Bit Edition, Windows* XP Professional, Windows* XP Home Edition, Windows* XP Tablet PC Edition, Windows* XP Media Center Edition
This applies to:Intel®PRO/Wireless 2200BG Network Connection
Intel®PRO/Wireless 2915ABG Network Connection
Intel®PRO/Wireless 3945ABG Network Connection
Intel®Wireless WiFi Link 4965AGN