---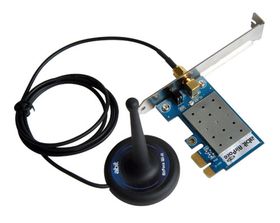 With the AirPace Wi-Fi, Universal abit is pioneering in the implementation of high-performance Wi-Fi devices using the PCI-E high-speed interface. This universal IEEE 802.11b/g (up to 54Mbps) standard Wi-Fi card offers the flexibility to be used in any PCI-E slot. It also offers a convenient software AP function.
In Software AP mode the AirPace Wi-Fi transforms your personal computer into a full-fledged Access Point, allowing other devices not only to access that PC's hard drive and internet connection but also let them use its peripherals such as printers etc.
In client mode Universal abit's AirPace Wi-Fi allows your PC to join an existing wireless network or use an Access Point to connect to the internet and/or intranet. But already now more and more diverse usage models are possible. In combination with abit's AirPace Music, for example, you can easily transform your PC into a wireless infotainment center, wirelessly streaming your locally stored audio files to virtually any active speakers in your home.
Driver for Windows 2000 / XP / XP 64bit / 2003 / 2003 64bit / Vista 32bit / Vista 64bit
Version: v5.1.1.10
[Abit]