---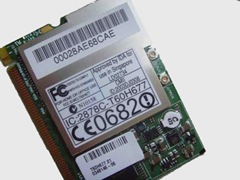 Device Type: Network Adapter.
Manufacturer: Ambit Microsystems
Model: Mini PCI Wireless Adapter T60H677
Ambit T60H677 is based on atheros 5212A chipset.
Device Name: LAN-Express AS IEEE 802.11g miniPCI Adapter
Device ID:
PCI\VEN_168C&DEV_0013&SUBSYS_04021468, PCI\VEN_168C&DEV_0013&SUBSYS_04061468
Ambit T60H677 802.11g Wireless Mini-PCI Adapter Driver for Windows 98/ME/2000/XP:
Download (File Size:1M. driver only, no utility)
How to Install: download this .rar file, extract it, then when windows ask you for the driver,  you point it to the folder in the Driver folder which you just got done extracting.