---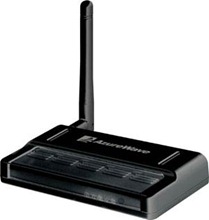 Music Infinity
IEEE 802.11 b/g Wireless Access Point plus Wireless Audio Combo Solution Wireless makes your digital music more beautiful!
• Connects PC to your stereo system via 802.11g/b or wired network, Works with any program, media players, games, streamed Internet audio, etc.
• Using virtual audio driver architecture to work with any PC audio applications
• Support 2.1 and 5.1 channel wireless audio
• Stereo and Optical Digital connectors for best audio quality
• Easy Setup Wizard for configuration
• User-friendly utility runs on your PC to manage the music with equalizer
Connect your PC to stereo system wirelessly!
Supporting 802.11b/g, the AW-GA200 can stream music from PC to the Hi-Fi stereo system. It works with various programs, and streams internet audio. The AW-GA200 also supports AP and AP client mode so you are free from the wire entanglement!
Easy to set up, easy to use
The User-friendly utility and Easy Setup Wizard featured easy installations on your PC to manage your music with just a few simple steps.
Amazing sound quality!
Not only supporting 2.1 and 5.1 channel wireless audio, our AW-GA220 also works with Stereo and Optical Digital connector so you can enjoy the digital music with the best audio quality.
Enhanced Wi-Fi Security
The AW-GA200 supports Wi-Fi Protected Access (WPA) and 128-bit WEP encryption, so you can stream the data or audio more efficiently and securely!
AzureWave AW-GA200 Product Spec Datasheet: Download
AzureWave AW-GA200 Quick Installation Guide: Download
AzureWave AW-GA200 User Manual: Download
AzureWave AW-GA200 Wireless Utility, V1.1.3.1 (2007.05.30): Download