---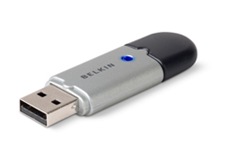 The Adapter uses advanced technologies - Bluetooth standard v2.0 +EDR and USB 2.0 - to provide you with quicker connection times, enhanced voice and multimedia quality, greater Wi-Fi environments, and up to three-times-faster data-transfer speeds. The new driver includes support of the Voice over IP profile, enabling you to seamlessly call over the Internet.
Features:
• Bluetooth Technology allows you to create an adhoc network
• Higher speed access up to 3Mbps (effective throughput of 2.2 Mbps)
• Adds Bluetooth 2.0 + EDR wireless technology to your USB desktop computer, or notebook
• Bit Error Rate (BER) improved performance
• Offers backwards compatibility with any Bluetooth Technology v1.1 and v1.2-compliant device
• Installs easily with Plug-and-Play convenience
• Allows you to work at distances of up to 100 metres (Class 1) and 10 metres (Class 2).
Device Name: BELKIN BLUETOOTH USB + EDR ADAPTER CLASS 1 v2.0
Hardware ID: USB\VID_050D&PID_0012
Belkin F8T012 Bluetooth USB Adapter Windows XP/Vista Drivers, Software:
Download, version: 6.0.1, OS compatibility:  Windows Vista 32 BIT, size: 59.22Mb
Download, version: 5.0.1, OS compatibility:  Windows XP 32 BIT, size: 68.55Mb
User Manuals:
F8T012 & F8T013 Bluetooth Technology USB Adapter - Product Manual
F8T012/F8T013 Bluetooth USB Adapter - Apple Mac Quick Installation Guide