---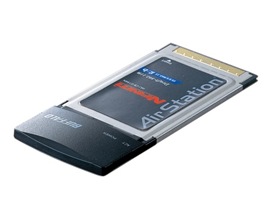 Buffalo Nfiniti Wireless Notebook Adapter is designed to draft IEEE802.11n standard 1.0 specifications to deliver ultimate connectivity for your wireless world. With faster wireless data rates and more coverage than legacy 802.11 products, Buffalo Nfiniti Wireless solutions provide sufficient bandwidth, range and reliability to stream High-Definition (HD) video, voice and music.
Features:
Fits any Notebook with 32-bit CardBus Interface
Designed to 802.11n Draft 1.0 Specifications
Up to 12X Faster & 4X Greater Range than Standard 802.11g
Easy Setup with AirStation One-Touch Secure System (AOSS)
Supports WPA (TKIP, AES) and 128/64-bit WEP Security
Device Name: BUFFALO WLI-CB-G144N Wireless LAN Adapter
Hardware ID: PCI\VEN_14E4&DEV_4329&SUBSYS_03501154
Buffalo WLI-CB-G144N Wireless Cardbus Adapter Windows 2000/XP/Vista/Win7 Driver:
Download (12/08/2009, V.5.60.48.18, driver only, no utility)
Buffalo Wireless Client Utilities:
File
Post Date
Version
OS Support
Notes

download
2.11 MB

2007-06-05
5
Windows Vista
Client Manager V for Windows Vista. Adds AOSS support for Vista.

download
2.79 MB

2007-06-05
3.0
Windows XP / 2000 / 98SE
Client Manager 3 for Windows ME, 2000, and XP. Adds AOSS support for Windows. Windows Vista users please use Client Manager V.